Bikes in Space is an annual anthology of feminist bicycle science fiction.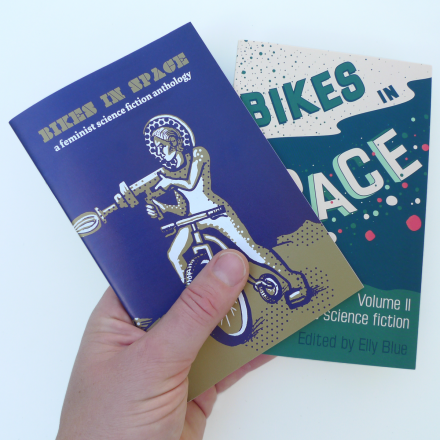 Bikes in Space Volume 1
Initially intended as a one-off project, Vol 1 was the 10th issue of Taking the Lane zine.
May, 2013. $5.95
Bikes in Space Volume 2
Bikes in Space 2 departs from the zine format and is a paperback book with more, longer stories. Try out one of the stories here or just grab a copy. May, 2014. $9.95
Bikes in Space Volume 3 is Pedal Zombies: 13 Feminist Science Fiction Stories came out in Fall, 2015.
Our first Bikes in Space novel, Emily June Street's The Velocipede Races came out in April, 2016.
Bikes in Space Volume 4 is Biketopia: Feminist Bicycle Science Fiction Stories in Extreme Futures and comes out in August, 2017.
Submissions
Submissions are open for Bikes in Space Volume 5. The theme is Intersections. Stories that are accepted will all have a feminist perspective and incorporate bicycling in some way, whether or not they are actually about feminism or about bicycles. We especially welcome submissions from writers of color and nonbinary writers, and seek stories that portray more diverse perspectives than are classically found in sci fi.
Your story should be in the neighborhood of 2,000 to 6,000 words. If your story needs to be longer or shorter, then by all means write it to be the length it needs to be and we'll work with you on edits as needed. There are no formatting, document type, or style requirements, and no strict definition of what exactly counts as science fiction. Black and white art is also sought. Payment is a share of net profit from the Kickstarter project that funds the book.
The early deadline for this volume is January 15, 2017. If there is still room in the volume after that, we'll consider stories submitted before March 1, 2017.
Send submissions and questions to elly at takingthelane dot com.