The latest issue of Taking the Lane is #15: True Trans Bike Rebel, out now!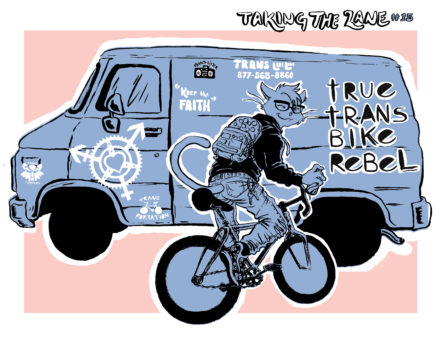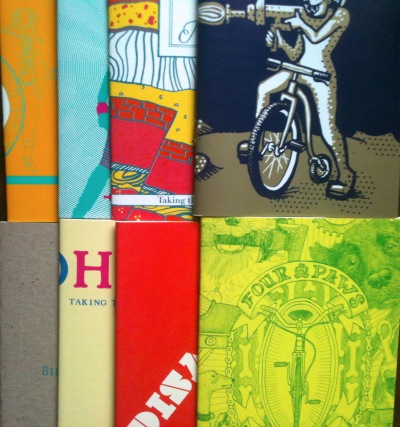 Taking the Lane zine, published since 2010, provides diverse perspectives on a wide variety of topics through the double lens of bicycling and feminism.
Back issues
#1: Sharing the Road with Boys contains writing by Elly about sexist encounters in cycling and what to do about it. Out of print, but there's an ebook.
#2: Revolutions Every Damn Day includes multiple contributors' accounts of cyclists at work, including an interview with the owner of Sugar Wheelworks (formerly Epic Wheelworks). Out of print, but again—we made an ebook.
#3: Unsung Heroes: Featuring admirable cycling women, including an interview with the wonderful late Marilyn "Tweety" Hayward. Out of print!
#4: Sexy on the Inside is the story of the Sprockettes, the world's first all-women mini-bicycle dance troupe, and also about different feminisms. Out of print.
#5: Our Bodies, Our Bikes featured different contributors writing about topics from body image to pregnancy to menstruation to injury to fitness. The zine is out of print, but we have since published a book by the same name, co-edited with April Streeter, featuring some of the same content and much more.
#6: Lines on the Map, edited by Katelyn Hale, featured writing that all had a strong sense of place and landscape, especially hills. It's out of print, sadly.
#7: BikeSexuality—the title is self-explanatory for this one! Also out of print, but some of the essays were reproduced in the Our Bodies, Our Bikes book.
#8: Childhood features writing about bicycling as a child and with children. Out of print…
#9: Disaster has accounts of bicycles being of use in times of crisis, from the personal to the geopolitical to the catastrophic. Just a few copies left.
#10: Bikes in Space was our only fiction issue—specifically, science fiction! It was so much fun that we turned Bikes in Space into its own series. We reprinted this, so you can get copies again!
#11: Four Paws, Two Wheels is all about dogs and bikes. Available and in-print.
#12: Religion was edited by Kirsten Collins and contains a number of personal stories that show the intersection of bicycling and different religions and spirituality. Available and in-print.
#13: Cycletherapy: Grief and Healing on Two Wheels was edited by Anika Ledlow. Book format, in-print.
#14: Bikequity looks at intersecting issues of class, money, and identity. Book format, in-print, good stuff.
#15:True Trans Bike Rebel, guest edited by Lydia Rogue, focuses on experiences around bicycling by folks who are transgender and gender nonconforming
Also….
You may be interested in the Taking the Lane audiobook or the Bikenomics zine…
Contribute
100% of our content comes from readers and the themes for most issues are at the request of contributors. If you're interested in writing or drawing something for an upcoming issue or anthology, check out our current calls for submission or get in touch to pitch us an idea for a future theme.
Sponsor
Taking the Lane is primarily reader-supported, but starting in 2013 we have offered a limited number of print advertising opportunities in each issue. Please contact us for rates and availability.