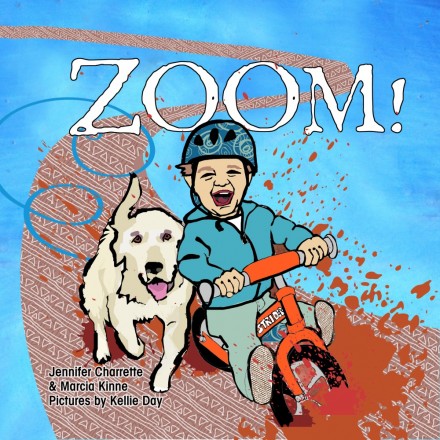 Zoom!
Jennifer Charrette and Marcia Kinne
Art by Kellie Day
Release date: September 1, 2014
8 pages, paperback, 7″x7″, Elly Blue Publishing
Download a high resolution cover image.
— Buy the book —
In Zoom!, a three-year-old rider scoots his push bike confidently through the mountains and mud, puddles and rain, and through a desertscape studded with cactus. He proudly puts on his favorite helmet as he rides with his dog, with his brother, and with his entire family.
Zoom! is an eight-page adventure book suitable for children ages 6 months to 4 years, filled with the colorful artwork of Kellie Day and the fun, endearing rhymes created by its authors, Jennifer Charrette and Marcia Kinne. Aimed at showing children what it means to live bravely and passionately, it follows the story of an active, happy youngster and his adventures on a balance bike– a type of first bike that kids propel by running rather than pedaling.
The book sports a foreword from professional bicycle champion George Hincapie.
Zoom! is written to honor Axel Charette, a young boy murdered while his family was vacationing in Mexico. Zoom! is a tribute, and celebrates Axel's memory by helping other families to discover and embrace bicycling as a family activity—and a way to keep moving forward through life.
About the authors
Jennifer Charrette, Axel's mom, is a passionate road and mountain biker. She runs a blog, PedalAdventures.com, which chronicles her family's deep love for cycling. She co-founded the Axel Project (axelproject.com) with her husband Randy Charrette, and lives in Ridgway, Colorado with their sons Kalden and Lars.
Marcia Kinne is a certified Elementary Education Teacher with a Masters in Education, and is the founder of the Kidbook Project. She lives in Colorado with her family and four children.
About the illustrator
Kellie Day currently runs a graphic design and painting studio, all while raising her seven-year-old son. As an artist, she likes using mixed media on canvas. Kellie grew up in the Midwest and went to college in Indiana, graduating with a BA in advertising and a minor in art.
Praise for Zoom!
"This wonderful children's book is about a boy and his bike; but it's about so much more. The confidence, happiness, and adventure that such a simple relationship can bring about is something that I wish for every child and something that the Axel Project has set out to ensure. I hope you enjoy Zoom! as much as I did and I hope you share it with the same passion that Axel had for life!"
– George Hincapie, three-time USA professional road champion