Update: Taking the Lane zine is coming to an end after its 12th issue (about bicycling and religion), and will be reincarnated as the annual Journal of Bicycle Feminism. The first issue of JBF has the theme Grief and Healing, and is being funded on Kickstarter through October 21, 2014.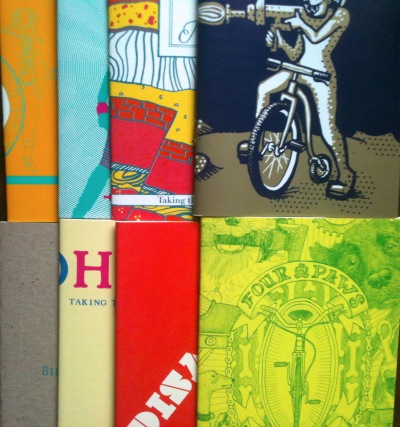 Taking the Lane zine, published quarterly since 2010, provides diverse perspectives on a wide variety of topics through the double lens of bicycling and feminism.
Subscribe
The best way to keep up with Taking the Lane is to subscribe. A new issue will be delivered to your door every few months. 2014 subscriptions are available here; supersubscriptions that include the zines and everything else produced by Elly Blue Publishing in 2014 are available here.
Back issues
Issues 1, 2, and 5 are currently out of print; all other back issues are available. The first and fourth issues are available for Kindle, and the fifth issue (Our Bodies, Our Bikes) is will be released as a book in 2014.
Contribute
100% of our content comes from readers like you, and the themes for most issues are at the request of contributors. If you're interested in writing or drawing something for an upcoming issue or anthology, check out our current calls for submission or get in touch to pitch us an idea for a future theme.
Sponsor
Taking the Lane is primarily reader-supported, but starting in 2013 we have a limited number of print advertising opportunities in each issue. Please contact us for rates and availability.