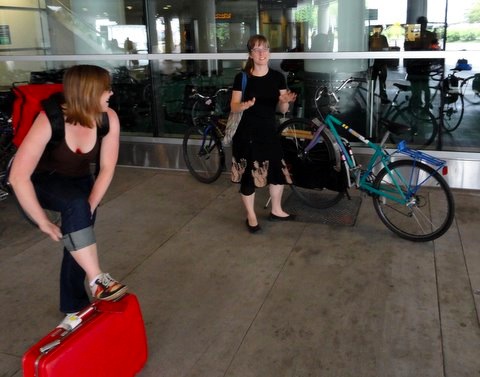 Meghan and I like leading bike rides, though it's not part of what we do with PDX by Bike. Instead, we empower people to explore Portland by bike in the way that suits them best, whether that's through one of our city's fine tour providers or on their own.
To that end, we partnered with the Port of Portland to bring a dozen intrepid riders to Portland's airport as part of June's Pedalpalooza festivities.
One amazing thing about Portland's airport is that you can actually bike there without overly defying death. It's a long ride — from my house on the east side it's seven miles on city streets or eleven on a multi-use path — but it's a pleasant one overall. I've written elsewhere about my very different experience biking only three miles into town from the Las Vegas airport.
Depending on what route you take, you can ride on a long, and at times almost scenic off-road path with smooth pavement and few stops, or the city's newest cycle track, with grade- and parking-separated bike lanes that totally change the character of the previously formidable, if fast, Cully Boulevard.
The Port, which runs the airport, encourages bicycling, providing some of the city's safest bike parking right by the gate (they showed us one bike that's been parked there, intact, for three years) and a bike stand and basic tools for taking apart your bike and putting it back together:
The bike-airport connection isn't without its potholes. The thought and money that have been put into making good bike routes — particularly at major street crossings — in the central city hasn't reached as far out as the airport yet. Only a couple of crossings feel really dangerous, though. Most just require a lot of patience.
The main hurdle is wayfinding — it's really complicated, and missing, confusing, or misleading signs have led me to get thoroughly lost and end up riding on a divided highway several of the times I've made the trek over the years.
Meghan points out a misleading wayfinding sign.
If the airport could be more easily found by bike, I believe we'd see a lot more people riding to and from there, for work (10,000 people are employed on Port property!) as well as to travel.
The ride was a blast. Pedalpalooza has the amazing ability to cast the glamour of "bike fun" on the most mundane activities, and our airport ride was no different. Our hosts at the Port were friendly and knowledgable. An airline representative handed out coupons. A couple on a tandem visiting from Atlanta gamely navigated the bike path's tricky curbs. A visiting blogger posted an excited recap with photos.
In the bike fun spirit, we had asked everyone to dress up and bring luggage, though only Meghan dressed up and only I brought luggage — that all-important airport drop-off or pick-up accessory, the extra bicycle, trailing along behind my Xtracycle. This ended up coming in handy — just as we were getting ready to head back, we found our friend Heidi (whose thoughts about bike racing, incidentally, you can read here) standing by the luggage carousel. As depicted in the photo at the top of the post (credit: Jeff Bernards), she swapped her suitcase for my bicycle and I dropped her off and swapped back on the way home. Which is exactly how life is supposed to be.
(Photo at top is by Jeff Bernards. Thanks, Jeff!)