On Monday afternoon, I posted about the Bike Test, an analytical tool to help the people in the bicycle industry, advocacy, and media to determine if an image or situation is sexist.
There's been quite a response; loads of people coming to read the article, tons of discussion and debate in online forums and social media, a mention in an "Open Letter to Interbike" — on the topic of the industry's hamfisted representations of women — posted on the Bicycling magazine website, and a pledge from the great cycling fashion website Vélo Vogue that they'll try out applying the bike test to their future posts.
The examples I used in that post were more or less cut and dry. (Still can't quite get over Specialized's tire-pumping nurse.) Now the borderline cases and tough calls are rolling in. I've posted a few of the most interesting ones I've seen in this post — feel free to send in more or post them in the comments, and to add your analysis.
Here are the test criteria again:
1. Are women present or represented at all?
2. Are the women presented as active subjects rather than passive objects?
3. If the gender were reversed, would the meaning stay more or less unchanged? (Or would the image become hilarious?)
---
First up for analysis is the new Bikes Belong poster, unveiled at Interbike, and photographed here by Lovely Bicycle. The Bikes Belong website goes into more detail — the poster is for a new campaign to challenge the industry to "Build More than Bicycles," to build community by encouraging more everyday cycling.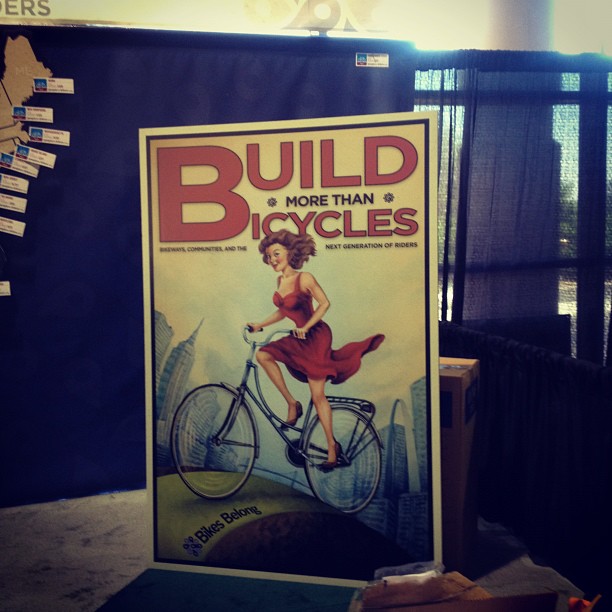 Does the new @bikesbelong poster pass the @ellyblue bike test? instagr.am/p/PutHsyj7gP/ (via @lovelybicycle )

— ThePathLessPedaled (@pathlesspedaled) September 18, 2012
So let's give it the test. Yes, there's a woman in it, so it passes Question 1. And she's riding actively, standing in the saddle, the hero of the story, totally confident and obviously having a blast, which puts it in good stead with Question 2, though the element of eye candy does make we waver a bit. And I could totally imagine the image working just as well witha man dressed up in a cute vintage-y pantsuit with the same look and the same flair. So that covers Question 3.
Or does it? There's an element to this poster that makes me hesitate, and it took me a few minutes to pinpoint it. She's riding an uber practical city bike, and wearing a great dress and stylish but comfortable looking flats — but you know what's missing? Her keys. Where the heck is she carrying them? Or her wallet, or her phone, or the sandwich for her picnic or the bottle of wine she's bringing to the party, or the book she's returning to a friend. Etc. In my mental picture of this poster with the genders reversed, the man has pockets and lots of them, and maybe a waxed canvas pannier or handlebar bag with leather straps; able to function in his day while still putting fashion first and being just as free and unencumbered.
You know what, though, I'm going to assume she's wearing a hip bag and that her arm is obscuring the strap. And for that the image gets a pass, albeit an unenthusiastic one.
[Update: Here's Lovely Bicycle's commentary — she has trouble failing the picture but also feels uneasy. Perhaps it's the Bike Test that's failing here.]
---
Next! This one actually isn't at all ambiguous.
aptly points out, the model for the gear is posing passively and seductively. She's there to be looked at, lustfully or enviously — the message for women is clearly: "Maybe you could almost look this hot if you wore this kit….psych! Not." For some reason that line of thinking seems to genuinely motivate many of us to buy things.
I'm including this because the blogger also gives the pic failing marks because of the model's skinny legs. I hear this a lot and just want to put it out there that everyone's body is different, and there are plenty of slender-legged people pedaling bikes out there strongly and happily. Skinniness is not grounds for disqualification in the Bike Test.
That said, I'd also like to take this opportunity to channel the excellent Fit and Feminist blog to point out that skinny does not necessarily equal healthy, and that having a larger body than what you see in magazines not only doesn't indicate a lack of athletic ability, it may in fact make you more competitive.
You can be strong and healthy and ride a bike (and be a total badass) at any size. Feeling shame about our bodies is endemic to North American womanhood; and all the more reason to develop this kind of media literacy, so we don't take those magazine pictures to heart.
---
Third and last, we have Cipo.
That's Mario Cipollini, Italian bike racer. He's posed naked a lot. I have received many nude photos of him in the last few days as evidence that pinup pics of woman racers really do pass Question 3. I'd argue instead that he's the example that proves the rule — it's not like Wiggo or anyone else is out there posing naked, that's just Cipo's thing, and he gets away with it due to an excess of machismo.
I was planning to post photos here and make some funny commentary and mark this post NSFW, but when I started to look for usable photos I quickly found his pithy commentary on gender. And you know what? Fuck that guy.* He might win a lot of races, but he fails this test.
*Don't see the problem? Read this.
---
And that concludes today's examples. I'd also like to put up a best-practices type of post, full of great positive examples of representations that pass the test with flying colors — feel free to send those in, too.
Thanks for reading. Comment away!