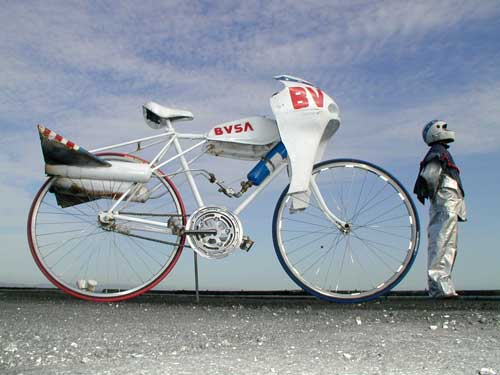 Photo credit: Cyclecide
I've been planning to mark the tenth issue of Taking the Lane's quarterly journal about bicycling and empowerment with something really special. An ode to the best bike cities, interviews with the most inspiring bike visionaries, essays by bicycle thought leaders of our time. Something like that.
The topics for these issues tend to turn up under their own volition, though. Well, through the world's volition. Issue 8, Childhood, came about when my friend Lauren informed me that my next issue should focus on "bicycle memories" and that she was writing an essay for it. It coalesced from there. The best issues (not naming favorites, but of course I have them) have come together like this, with the least heavy handed choosing on my part.
And so for the tenth issue I am doing something I have steadfastly refused to even consider in the past. Like the last issue, it began with a friend's casual question. Would I ever do a fiction issue? Absolutely not, I replied. I don't know how to write fiction, much less edit it. But the idea stuck, and mentioning it to others has resulted in excited positive feedback. So… I'm doing it. But there's a twist.
Most regular fiction about regular life that is acclaimed as generally "good" leaves me cold. But I've been reading science fiction since I was a kid, and rediscovering the genre again recently, and I think I have enough of a sense of what works and what doesn't to dip my toe into the world of editing this stuff.
A strange choice for a landmark issue? Sure. But after all, what's more visionary than the future?
With all that said, please send your science fiction stories about bicycles to elly at takingthelane dot com.
The stories don't have to be set in space, I just like the title "Bikes in Space" (and there are some cool precedents). The standard length for pieces published in Taking the Lane is between 500 and 1000 words. But your submission can be as short as a tweet and as long as it needs to be, with the understanding that I will neither read nor publish any novellas and that I am a fairly intensive editor.
Keep in mind that the goal is that everything we publish has a feminist (tl;dr: non-macho and not stereotypically-gendered) perspective. Update: more about submission requirements here.
Deadline for drafts: February 10, 2013 Update: I'm still accepting stories through the end of February.
Compensation: A good sized percentage of the print run is split amongst contributors.
Artwork is most definitely sought.
Thank you!
P.S. Issue #9, covering the scifi-esque topic of Disaster, comes out in February. Hopefully early February. I'll keep you all posted!
Update: It's been asked if fantasy and slipstream are acceptable as well as hard science fiction. Answer: Yes they are.