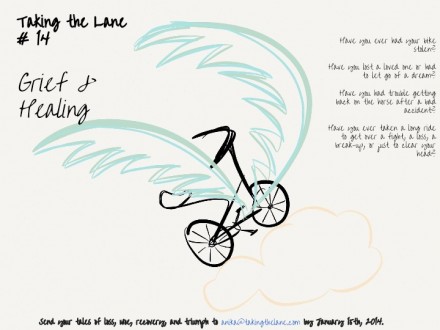 You are invited to contribute to issue number 14 of Taking the Lane. Essays, artwork, fiction, and poetry that explore ideas around grief and healing (through the lens of bicycling, and in a feminist manner) are being sought. Love and loss, injury and recovery, and crimes of a property or planetary nature are all relevant—as well as whatever else is on your mind.
Written work should be in the neighborhood of 1,000 words or less. Art should be single color and at least 600 dpi.
People who identify as being part of groups that aren't always well-represented in publishing—including race, ethnicity, gender, age, ability, and sexual orientation—are particularly encouraged to contribute.
The guest editor for this issue is former Taking the Lane intern Anika Ledlow, who is bringing her publishing skills and amazing artistic sensibility to the project. Please contact her with submissions, pitches, and questions: anika at takingthelane dot com
The deadline for submissions is January 15th. Unlike some of our other projects, this is a hard and fast deadline.
Want to be sure to get this issue in your mailbox as soon as it comes out (probably in the spring)? Subscribe!
(Don't worry, we haven't gone superstitious and skipped #13—that one is coming out in the proper order, and has some exciting tricks up its sleeve, but Elly is too busy writing it to properly announce it just yet.)