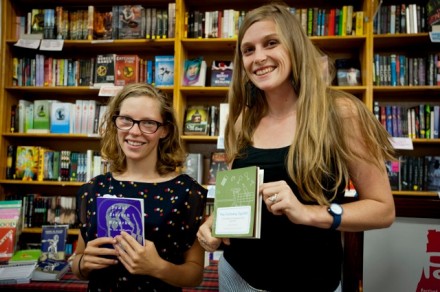 Anna and Kelli at their release party (Photo by Luc Revel)
Yesterday, Anna Brones posted on her blog about the 1-year anniversary of her book, The Culinary Cyclist (to celebrate, she includes the recipe for the book's delicious peanut butter cookies, in case you needed a reason to click over there).
I was taken aback. Had it really been a whole year already? Wait, had it *only* been a year?
But it's true. In August, Elly Blue Publishing put out our first two "real" books: Anna's decadent, gluten-free, bicycle-flavored cookbook and Kelli Refer's endlessly charming, illustrated guide Pedal, Stretch, Breathe: The Yoga of Bicycling. Before that, EBP I'd been a zine publisher and had assumed I'd continue on that way. But these two authors turned up with book ideas, and my sage advisor wisely counseled me to make the leap.
I'm so pleased that I did. These books are gems, and they're a pleasure to sell. My heart swells a bit each time someone at an event in Oklahoma or North Dakota or Virginia flips through Kelli's purple paperback with a serious expression on their face, or, holding Anna's book, slowly starts to smile as they figure out what bicycling and cooking might have in common, then absentmindedly hands me a ten dollar bill without looking up from the page. I've watched both authors tour with their books, speak with confidence about them, blog about them, find creative ways to interact with readers—I've learned a few tricks from them both.
Best of all, now that I know how to make a book (Lesson one: manage your production schedule so you aren't releasing two titles at once!), I can keep making them. Bikes in Space #2 was my fledgling company's third book. Zoom! was our fourth, this one for children. Our Bodies, Our Bikes will be our fifth if we are fully funded in the next five days.
After that there's a two year long list coming up. Amy Subach's paleo cookbook that's really a story about cargo bicycling and natural childbirth. Emily June Street's novel about a young woman whose talent for bicycle racing butts against the mores of her restrictive society. Carole Smith's memoir about bicycling, religion, and 1890s bike heroine Frances Willard. Dr. Adonia Lugo's treatise on transportation justice and bike activism in Los Angeles. Charlotte Fagan and her crew's book about bike polo culture around the world. More in the works. More years to come!