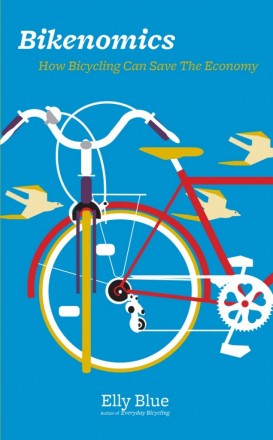 Bikenomics: How Bicycling Can Save the Economy
by Elly Blue
194 pp
December 1, 2013
Microcosm Publishing
Bikenomics provides a surprising and compelling new perspective on the way we get around and on how we spend our money, as families and as a society. The book starts with a look at the real transportation costs of families and individuals, and moves on to examine the current civic costs of our transportation system. The book tells the stories of people, businesses, organizations, and cities who are investing in two-wheeled transportation. The multifaceted North American bicycle movement is revealed, with its contradictions, challenges, successes, and visions.
Where to find Bikenomics
You can order the book directly from the author. (Contact me about wholesale ordering.)
Bikenomics can also be purchased all major U.S. bookstores, directly from the publisher, and of course from the big A.
(Note: The UK release date is March 1, 2014)
Disambiguation
This book is all new content being published for the first time. Previous incarnations of Bikenomics include a 44 page zine, published by the author, called Bikenomics: How Bicycling Will Save the Economy (If We Let It). The zine is available in print and as an e-book. Bikenomics was also the title of a series of articles by the author on environmental web magazine Grist.
A spanish-language translation of the zine is now available.
More Bikenomics
Bikenomics has its own Facebook page, with a steady stream of topical news from around the web.
For book events and readings in your area keep an eye on our events page.
To schedule a speaking engagement or request an author interview, media kit, or review copy, contact me.
To inquire about bulk orders, desk copies for teachers, or licensing or excerpting any part of this book, contact the publisher.
Also by Elly Blue: Everyday Bicycling: How to Ride a Bike for Transportation (Whatever Your Lifestyle)
For the media
– High-resolution book cover
– High-resolution author photo
– PR infosheet