Welcome, visitors from Nerve.com! I've moved this post up to the top of the stack to give you more background on the type of bike fun you're looking for. Everyone else — you can now read three excellent and true tales from the BikeSexuality bookette over at Nerve. Enjoy! And then buy the zine to read the rest.
---
BikeSexuality (it's a zine … or feel free to think of it as a small book if 90s zine culture doesn't strike a chord) has been out for less than a month, and it's been flying out the door at an alarmingly awesome rate. Reports are coming in that it's the best issue yet. You can decide for yourself by by grabbing a copy of your own. It's only $4 and what you find inside might surprise, alarm, soothe, delight, and discomfit you. I know better than to say "there's something for everyone" but there's a pretty wide range of bikesexuality represented therein.
To whet your appetite, here's the backstory behind a few of the pieces:
---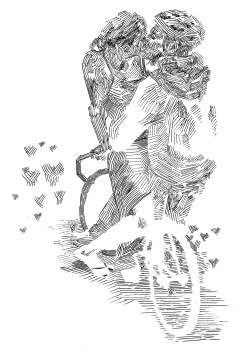 Philip Thiel, an excited Australian, sent in one of the first, and shortest, and sexiest submissions for the zine, describing a fleeting, passionate kiss astride a bicycle. I was further entranced when I went to his website and discovered what might be the best use of LiveJournal ever conceived. Every year since 2005, he's chosen a theme, done something related to it every day, and written about it. This guy has commitment.
His themes range from doing things with lemons to giving people flowers to reading the I-Ching. This year it's meditation. In 2010, it was kissing. The bicycle kiss (deliciously illustrated for Taking the Lane by Seattle artist Matt Queen) was late in the year, on December 21st. Once I'd found it, I couldn't stop reading. They're all good. Try this one. Or this one.

---
Sarah Mirk, who wrote the funny "U-Lock Cock Block," is a reporter for one of our local alt-weeklies, the Portland Mercury. She's been part of the paper's miraculous-seeming transformation from distasteful rag to creditable news source… and one that often covers bicycling issues (among others) more thoroughly and fairly than our dying daily. Sarah described her job to me once as "getting to go around and be curious about everything." Most recently, she's given her curiosity about sex, gender, and relationships a long leash, with the result being a forthcoming book Sex from Scratch. Publication details don't seem to be set yet, but until it's out you can read some of her interviews with sex luminaries, statistical relationship breakdowns, and (best of all!) cartoons about reproductive issues on her blog.
---
As was thoroughly documented in Taking the Lane #4, I'm kind of a prude. And while I endeavored to round up some smutty content for BikeSexuality, I didn't try *that* hard and it ended up being, while diverse, somewhat demure. But there is some content herein of a more "how to" nature, from taking care of your needs on a cross-country bike ride (it's a simple trick) to detailed instructions for putting on a bicycle-themed burlesque show from the smart and organized ladies behind the Wheel Sexy Cabaret. Awesome.
I was extra stoked by the last minute inclusion of Poppy Cox, a real live, actual bike pornographer (read more about what she does and why here and here). Her missions, she says, are "converting people to bikesexuality, having great orgasms, and creating fun." It's probable that she and her cohort coined the term "bike-sexuality" (its relationship to the more, uh, mainstream "ecosexuality" movement has yet to be officially defined) well before our anonymous contributor to Our Bodies, Our Bikes, but I think it's safe to say the cultural moment for that identity category has arrived.
---
Copies of BikeSexuality available here.