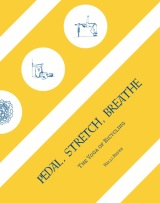 I'm pleased to announce that Pedal, Stretch, Breathe: The Yoga of Bicycling has been out for about a week. About 150 of them immediately were mailed off to the far corners of the world, and glowing praise for the small book has been returning at a steady stream to Taking the Lane Media HQ.
The best recipient of that praise is the book's author and illustrator Kelli Refer, and you'll have a couple of chances in the next month to hear her talk about yoga and bicycling and to congratulate her in person.
The first event is in Portland this Thursday, August 16th, from 7-9pm. It's at Velo Cult, 1969 NE 42nd Ave. The event will include a reading and a demonstration of some good yoga practices to do on and off your bike. The venue is very cool — it's a bar as well as a bike shop and event space (the stage is a former castle drawbridge!). No RSVP necessary, but here's the Facebook invitation for those of you who like them. Come have a beer, get inspired about bikes, books, and yoga, and have the author sign your copy!
The next event will be in Seattle on Sunday, September 9th, from 5-7pm. The event is split between Rainbow Natural Remedies and The Grinning Yogi, across the street from each other at 15th and Harrison.
The event starts out at Rainbow for a 20 minute reading and signing that is free and open to all. At 5:30 participants will have the option to either stay and drink tea or walk across the street for a 90 minute yoga workshop geared towards everyday cyclists. The workshop plus a copy of the zine is a deal at $30 (it's $25 if you already have the zine).
No need to RSVP to the reading portion of the event, but space for the yoga workshop is limited, so please sign up in advance (scroll down for event).
You can download a poster for the Seattle event here (PDF). Here's Kelli's description:
Explore the connections between yoga, cycling and community with this unique event featuring Kelli Refer, local yoga instructor and author of Pedal, Stretch, Breathe. Our adventure begins at Rainbow Natural Remedies with a reading from her new book. Then we will migrate to The Grinning Yoga for an interactive yoga for cyclists workshop. The intention of the workshop is to demonstrate how yoga compliments bike riding. In our time together we will develop realistic and sustainable yoga based warm-up to incorporate into your daily commute. After that we will explore the joys of restorative yoga postures to nourish sore legs. There will be time for dialogue and questions.

This workshop is a safe space for first time yogis, cyclists and every body.
---
– If you can't make it to these events, you can pick up a copy of Pedal, Stretch, Breathe online here at Taking the Lane or in stores including: Rainbow Natural Remedies in Seattle, Elliot Bay Books in Seattle, Microcosm in Portland … and more soon.
– Check out Kelli's Yoga for Bikers blog and follow her on Twitter
– You can read a short excerpt from the zine over at BikePortland.