Update (11/23/12): I removed this promotion when switching to my new shop software. But if you send me a receipt of your donation to Marilyn's medical bills and your mailing address, I'll send you one of these as long as I've still got copies.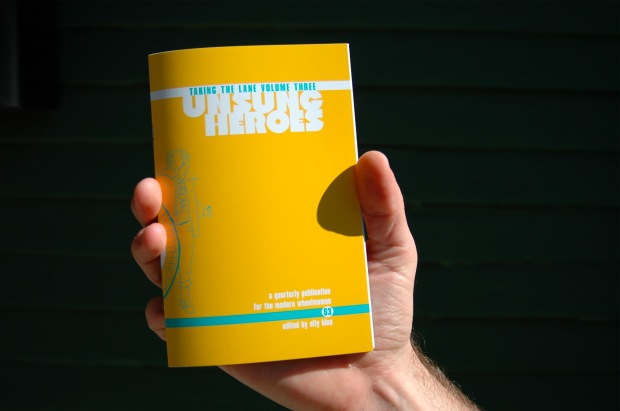 The theme of the third issue of Taking the Lane was "Unsung Heroes." One of the everyday cycling heroes profiled in its pages is Marilyn Hayward, owner of a small local bike shop, distance recumbent rider, and constant smiling, supportive presence at bike events.
Portland writer Monica Christofili sat down with Marilyn a couple of years ago and drew out her tough, sweet story of unexpected recovery, through cycling, after a devastating diagnosis; the story is in the zine.
Last month, Marilyn was seriously injured in a crash while out on a ride. The prognosis, again, was not promising — she sustained a head injury and was in the ICU. But once again, she seems to be making a full recovery from her injuries, albeit an expensive one — she was only partly insured.
Marilyn's story is an inspiring one, and I'd like to put the remainder of my stock of this issue to use in helping raise funds for her physical therapy and full recovery.
In exchange for a $20 to $100 donation (you choose the amount on checkout), I will mail you one copy of this zine and deposit the full amount of your donation in Marilyn's recovery fund paypal account each week (I'll cover the fees and postage).
There are also options to donate to her recovery fund directly — if you would rather go that route, just email your receipt for a donation over $20 and your mailing address to elly at takingthelane dot com and I'll ship your zine right away.
The goal of this campaign is to raise at least $1,000 to help Marilyn get better and bring her smiling self back into the community as soon as possible. I'll keep you appraised of the progress. Note that this is only a small fraction of the costs of her recovery, which will incur at least $40,000 in physical therapy bills.
You can donate directly on this page (below the jump), or at this link.
Thank you! And here's hoping that Marilyn's recovery is a speedy one.