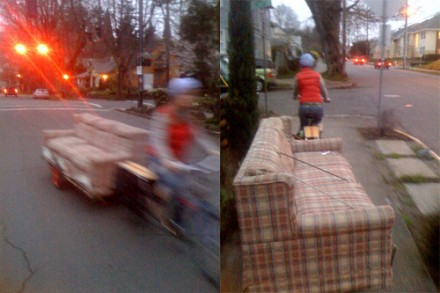 I find very few things in life more satisfying than finding new ways to carry stuff by bike. Especially the kind of things that you really *shouldn't* be able to bike with. The one thing that is possibly more satisfying? Getting to talk about it later.
Fortunately, I'm not alone in enjoying these indulgences. Every time the topic of carrying things by bike comes up, everyone has stories to proudly share. Much as I can't get enough of the "a refrigerator and a Christmas tree" tales, my favorite are the stories of people who are new to riding and have no rack or basket but have figured out how to carry a bag of groceries or cat food anyway.
For the yet-to-be-initiated, Chapter 4 of Everyday Bicycling is all about how to carry stuff, from your school/work things to cupcakes to lumber.
I asked for bicycle cargo stories on Twitter today, and responses came in from all over the map. They are compiled here. Read them and marvel! And be sure to check out the links and pictures…and share your own.
What are you most proud to have carried by bicycle? Brag away in the comments….