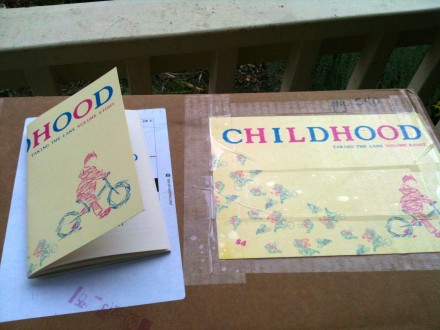 The day a new book drops is always exciting — and today was especially so. So much effort and attention from so many people went into the creation of the eighth issue of Taking the Lane Quarterly that I was more anxious than usual to find out how it would look.
It showed up on my front porch this afternoon in the form of two giant and one merely large box. They didn't even make it inside before being thoroughly rifled through, and the contents, with a sigh of relief, judged to be seriously awesome.
You can order copies of Childhood right here. If you already have a copy coming, it's going out in the mail later this week. Or you can pick it up in person at the big reading for small press bicycle books on Thursday, November 8th, at Powell's on Hawthorne (@ SE 37th Ave — not to be confused with the big downtown store!).
This event should be a blast. April Streeter, author of the beautiful and brainy new book Women on Wheels, is the headliner. She'll be talking about her book and her great organizing work helping women get started bicycling. I'll be showing off Everyday Bicycling, and Ellee Thalheimer will tell you about the painstaking pleasures of creating her unique bike touring guide to Oregon, Cycling Sojourner, and her much anticipated new bike/beer guide to Portland, Hop in the Saddle.
Finally, a whole bunch of Portland-based contributors to various issues of Taking the Lane will be on hand to read, talk about their work, show off their exciting new projects, and generally entertain you with the eclectic yet thematic aplomb that TTL always manages to pull off. Kathleen Youell and Katie Proctor will pull your heartstrings with their respective essays about parenting by bike; artists Britt Appleton, Kate Berube, and Katelyn Hale will delight you with tales of their creative lives and work; Lindsay Kandra will inform you why it is funny to be fast; and Rhienna Renee Guedry's spirited vignette from issue seven will be delivered as a spoken word performance.
The event is free and open to the public and it would be great to see a whole bunch of Portland TTL readers there (be sure to come say hi if we haven't met — and if we have!). Also, let me know in advance if you'd like to pick your copy up on Thursday so I can be sure to bring enough.
Huge thanks to everyone who contributed in large, small, and medium ways to this book. It means a whole lot to me how much it's meant to so many of you, and I can't wait to get it into your hands.