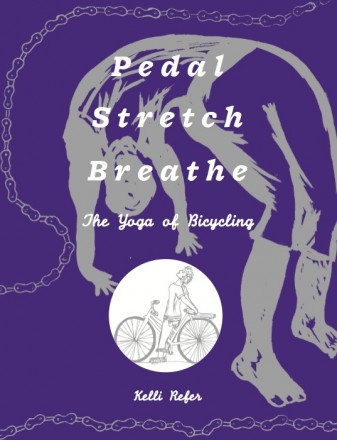 Kelli Refer is going on tour at the end of August to promote her new book, Pedal, Stretch, Breathe: The Yoga of Bicycling. She'll be doing readings and teaching yoga workshops throughout the Pacific Northwest. She and her partner, Tom Fucoloro of Seattle Bike Blog, will travel from city by city by bicycle, bus, train, and ferry.
The book comes out in less than two weeks and is based on her zine on the same topic that I published last year, now greatly revised and three times its former length.
The first stop on the Pedal, Stretch, Breathe tour is here in Portland, where Refer will read at a book release party the evening of August 26th at Powell's on Hawthorne, along with another of my authors, Anna Brones of The Culinary Cyclist—by excellent circumstance, both of their books are coming out within a month of each other.
The rest of the tour consists of readings and yoga workshops (the workshops include a bicycling component and are intended to provide the basis for a regular stretching routine for bike commuters and recreational riders alike). Subsequent events include:
(Note: It isn't required to sign up or pre-register for any of the events, but it's helpful for organizing purposes if you do.)
The tour is sponsored by Timbuk2 and Cascade Bicycle Club.
Here is the full list of Pedal, Stretch, Breathe tour events. Be there if you're local, and please help spread the word!