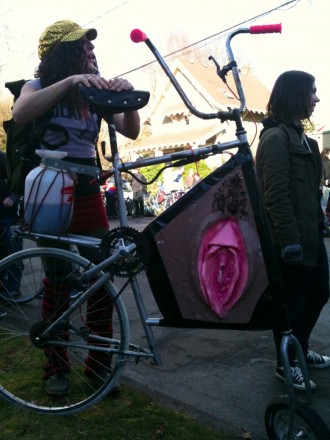 When I first saw the ShockTwat on its inaugural journey, I marveled at it for two minutes straight and then snapped a photo with my phone at the last moment before it rolled away. When the time came to launch the Kickstarter campaign for Our Bodies, Our Bikes, I looked through my photos for a suitable one to represent the project and found perhaps the least suitable and appropriate one possible—my blurry phone photo. Cackling a little with glee, I uploaded it and somehow couldn't bear to remove it. So there it sat, delighting some backers and scaring off others, until Katura blessedly shared a sketch for the book cover that I could replace it with.
I missed the original photo, though. What better representation could there be of the power of femininity and cycling? So I asked its creator, Adriane Ackerman, to share its story and some less blurry photos. Here it is, in her words:
The Shock Twat's maiden voyage was across town from my house in North Portland to the Chariot Wars brunch of Minibike Winter 2013, about 10 miles away.
I had thought long and gleefully about the reaction my friends would have to the tallbike with its giant papier mache vulva, but had neglected to think about all the people who would see it on the ride across town to the party. I was wholly unprepared and completely delighted by the responses I got. Lots of honks, lots of face palms, kids stopping whatever it was that they were doing and staring as I passed, mouths agape, forgotten hula hoops teetering at ankles and little minds whirring at lightning speed to try and figure out how they should feel about the giant "naughty bits" that just rolled down the street.
I knew that I would get visceral reactions for sure, and more than that I was preparing myself for the brunch and just how to convince ANYONE to put their mouth up to the soggy, intimidating tubes that reached out of the Cuntraption, flowing with fermented blood. I thought maybe I'd have to bribe them with non-pussy wine, or shame them for being vagina-phobic but, much to my delight, from the time I arrived at the brunch throughout the rest of the weekend there was a consistent line of eager slurpers waiting for their chance to kneel before the giant lady parts and have their throats coated with her rosy flow.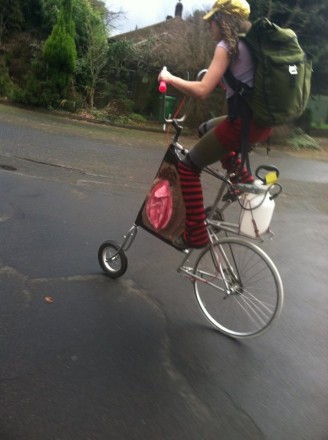 (Photo furnished by Adriane Ackerman)
Almost everyone had the same 3 reactions in the same order, with a varying spectrum of flare and volume. First, they'd squint or do a little jaw-drop or walk just a bit closer to see if their eyes deceived them. The next reaction would be visceral: grabbing their hair, slapping their knee, turning around in complete disbelief like they were going to walk away, but always completing a 360 as they were drawn back to its sheer awesomesauce. The final reaction was always – ALWAYS – a boisterous laugh or loud exclamation of some sort. (You should've heard and seen the guys on acid. Lordy. It made their year and I'm pretty sure it made them cry).
In only in a small sample of the folks who experienced the Shock Twat did I encounter the rare 4th reaction: The question, "Why?" What could possibly have possessed me? Why would I bring something like this into being? What in the world would make me think of it? I had a rolodex of answers that I'd call on, depending on who asked and how deep I thought they were capable of following me with the reasoning.
Basically, though, what each answer boiled down to was this: There just ain't enough Twat on display in the world, and lord knows I love Twat a shocking amount. Pussies are slandered left and right, equated with weakness and a mystery that is less than reverent. And yet, in my experience, there are few testaments to power more striking than hundreds of grown-ass adults waiting in line to get on their knees for a giant hand-made vagina, just to get boxed wine squirted at them from it… just to feel that for one glorious moment that a giant, inanimate symbol of life, power and seduction was shining down on them and them alone. 
All hail the vulva! All hail the ShockTwat! Viva la cuntraption! 
This guest post was written by ShockTwat creator Adriane Ackerman. You can read more essays like this, as well as a good number completely unlike this, in the forthcoming Our Bodies, Our Bikes book—if it makes its Kickstarter goal.