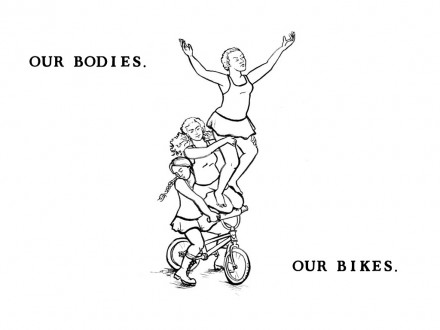 It's official: Our Bodies, Our Bikes the book is in the works. And it's funding on Kickstarter right now.
The image above is one of Katura Reynolds' preliminary sketches for the book cover. You might remember Katura from the space sharks on the cover of the first Bikes in Space, or from her compelling stories in the Childhood and Disaster issues of Taking the Lane zine. She also has a piece in this book… but let's talk about the art for another minute.
I always know it's going to be fun working with an artist when they send me sketches that look ready to go and then want to talk about how they can improve them using classical references. (In this case, Katura suggested going more in the direction of Nude Descending a Staircase; I countered with the Laocoon, which no, does not reveal how I secretly feel about bodies and bikes, I just wanted more dramatic tension.) At any rate, the cover will be awesome and I can't wait to share it—and the contents of this book—with you all.
The contents are coming along nicely—there's nothing like launching the funding project to kick things into gear. Julie the intern and I are going through the past year's worth of submissions, making notes, getting back to people slowly. People's submissions are personal, knowledgeable, hilarious, harrowing, a big fascinating mix, just like the spectrum of experiences you might have riding your bike on any given day, but so much huger.
The plan is to have this book out by Dec 1—but it won't be able to happen at all unless we meet our funding goal and can pay the printer, so please consider backing Our Bodies, Our Bikes on Kickstarter and spreading the word far and wide!