Our Bodies, Our Bikes is at the printer. Copies should be available at the beginning of December. You can pre-order the zine via Kickstarter or directly from me and I might have a few copies available at BikeCraft on December 2nd and 3rd.
This will be the fifth volume of Taking the Lane's printed counterpart — a zine that explores the bicycle movement from a feminist perspective. The sixth volume is still in the daydreaming phase of production. A reader's excellent suggestion this morning to look at the psychology of bicycling (thanks, Julia!) has me thinking the next theme might be something on the lines of "emotional landscapes." It would be interesting to poke at some gender biases in that realm as well as talking about a whole realm of our experience that doesn't always get taken seriously. What do you think? Any ideas about content for that?
More soon. In the meantime, my favorite spread from #5, defining "bike-sexuality" and showing off a beautiful illustration by Kate Berube, is below the jump.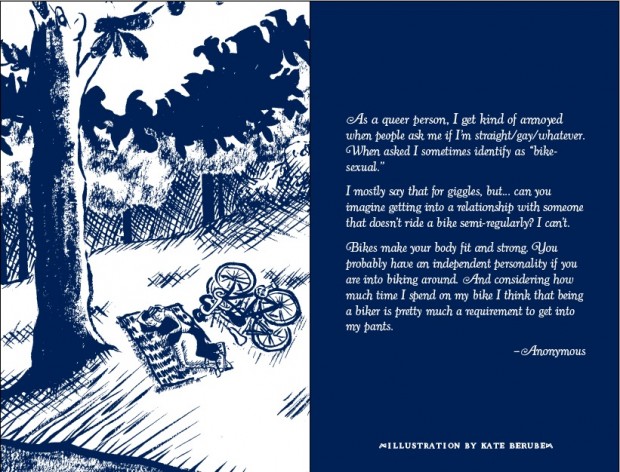 ---
Here's what the text says:
As a queer person, I get kind of annoyed when people ask me if I'm straight/ gay/whatever. When asked I sometimes identify as "bike-sexual." I mostly say that for giggles, but… can you imagine getting into a relationship with someone that doesn't ride a bike semi-regularly? I can't. Bikes make your body fit and strong, you probably have an independent personality if you are into biking around, and considering how much time I spend on my bike I think that being a biker is pretty much a requirement to get into my pants. – Anonymous
I imagine there are as many ways to define bike-sexuality as there are bike-sexuals. Please feel free to add your own in the comments.
---
Our Bodies, Our Bikes is out now, and it's $3 — Buy it here!
---
Volumes 6 and 7 of Taking the Lane are on the way! Vol. 6 is called "Lines on the Map" and comes out in March Help us get it printed by backing it on Kickstarter! Volume 7 is called "Bike-Sexuality." Topical submissions are being accepted through March 1.