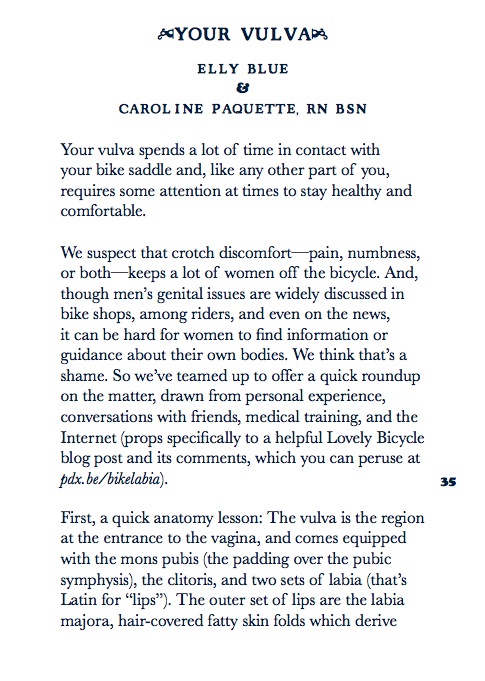 A sample page from the zine. Click to read!
I'm particularly excited about one of the essays in my forthcoming zine, Our Bodies, Our Bikes. It's a friendly, approachable, no-nonsense guide to crotch comfort and health for women who ride bikes, co-written with my friend Caroline, a nurse, seamstress, and hardcore mountain biker. (Word to the wise: Her current occupation is making kick ass cycling caps. And the holidays are coming up. Just saying.)
This essay was inspired by a number of factors, including a few of my own painful experiences in the saddle and the discovery that another friend and I had both, in our youth, had STD scares that turned out to be saddle sores. The latter conversation continued into somewhat more terrifying territory — the discovery that some women who spend a lot of time in the bike saddle deal with saddle comfort by having their labia surgically snipped.
I also happened on, and was inspired by, a frank article on the blog Lovely Bicycle about women's anatomy and bike saddles and the hundred plus comments in which readers shared their own experiences, remedies, and preventative strategies — mainly common sense solutions that were news to many other readers, including myself.
Crotches are a major point of contact with the bike. That's why men's genital health gets talked about a lot, as it should be, in bike shops and in the New York Times. Perhaps more women would ride bikes — and the labiaplasty option would have less appeal — if we talked about our vulvas more freely. That's the plan, anyway.
---
Our Bodies, Our Bikes is out now — Buy it here!