Update: BikeSexuality exists! You can buy a copy here.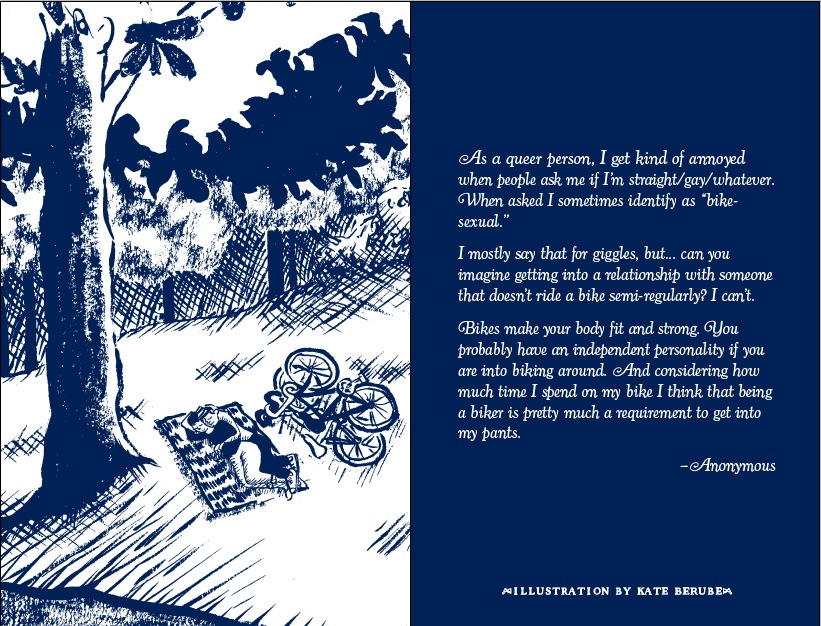 "Bike-sexual" panel from TTL5
(click to make bigger)
The seed of this idea started while the submissions for Our Bodies, Our Bikes were rolling in. The first several entries were also the most frankly sexual, and their writers, even the ones who chose to remain anonymous, ended up being some of the most enthusiastic disseminators of the final product.
When an image of the entire design popped into my head, I knew it had to happen.
So: please consider this an open call for submissions for the zine Bike-sexuality: True tales of bicycling and desire.
Please send short, true tales involving bicycling and sex, sexuality, love, lust, gender, etc — whatever inspires you — to elly[at]takingthelane[dawt]com. Word count: anything from 200 word anecdotes to 1,000 word sagas. Along with your submission, please also include your preferences as to your byline (anonymity and pseudonyms are fine, just let me know). I will assume that names have been changed. Deadline: March 1, 2012. The goal is to publish it by summer.
Submissions may be as graphic or demure as they need to be. I'm most likely to publish stories that ring true, are extremely candid and/or honest, and have an empowering slant. This is a queer-positive publication.
Illustrations also sought!
Feel free to contact me with questions, ideas, or to talk over what you'd like to write in advance.
---
– Get the finished zine here!