The fifth annual Dinner and Bikes tour is upon us!
Josh, Aaron, Joe, and I will be rolling out yet again this May, hitting the road in some sort of gas guzzling behemoth, making a sort of lopsided shape that defies geometrical definition. Our easternmost extreme will be Chicago. Our westernmost extreme will be Amarillo, Texas. Our southernmost point will be Brownsville, Texas, which is about as far south as you can get around here without crossing into Mexico. From there we head to New Orleans, and from there back north.
At one of our events, the audience serves themselves from a gourmet vegan, gluten-free buffet, Elly talks about powerful Bikenomics movements around the world, Joe shows a selection of very short documentaries about bicycle activism, local advocates get a chance to talk about what they're doing and ways to tap into your town's bike movement, and everyone can check out our bicycle and vegan themed pop-up bookstore. It's a win-win-win-win.
We don't have our schedule filled in yet, which means that if you're in Nebraska, Kansas, Oklahoma, Texas, Louisiana, Mississippi, Arkansas, Missouri, Indiana, or Illinois and want to host a dynamic, delicious, electrifying multimedia event designed to power up your local bicycle movement, now is definitely a great and excellent time to get in touch via our contact form or by emailing hello at dinner and bikes dot com.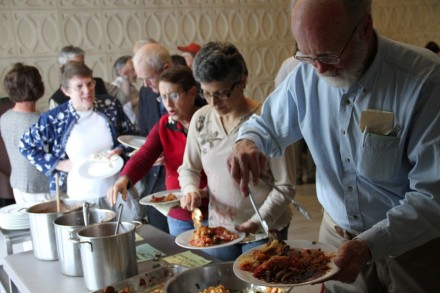 Can't wait to see you!