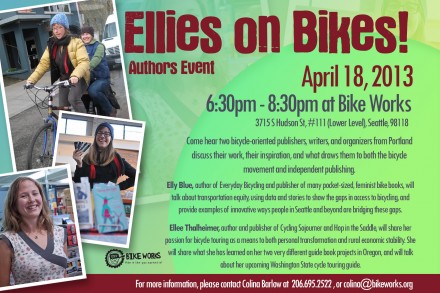 Hi everyone! I'll get back to regular posting here one of these days, but for now I am dabbling in the old-fashioned art of "analog blogging." This arcane art can take many forms; in the next week it will involve appearing in various venues and either having conversations or delivering remarks, respectively.
The first event is a party thrown by my publisher, Microcosm, to celebrate their huge number of new titles (including Everyday Bicycling!) this Sunday, April 14th, at 7pm at Velo Cult bar/bike shop in Portland (1969 NE 42nd Ave). The party will feature a bunch of their authors including myself and the similarly-named Eleanor Whitney, author of the brand-new book Grow: How to Take Your DIY Project & Passion to the Next Level and Quit Your Job. Get yer books, get them signed, or just come hang out and celebrate the continued existence of awesome indie publishing with some non-invasive live music, dumplings, and sweet local beers on tap.
Then next week I head up to Seattle. This time the same-name convergence is just eerie: Me and Ellee Thalheimer are having a joint book release party at the amazing nonprofit shop/community space Bike Works (3715 S Hudson, Suite 111 – lower level). Ellee will talk about her passion for bike touring and her two classic-in-the-making guide books to cycle touring in Oregon and cycling between breweries in Portland, respectively. I'll share a little bit about the inspiration and process behind Everyday Bicycling and share some exciting news about my next book (due out next spring!), Bikenomics: How Bicycling Will Save the Economy. We'll also be selling books and smiling a lot.
I haven't counted yet, but am pretty sure there are more of you Taking the Lane readers/subscribers/contributors in Seattle than in any other city; Portland may or may not be tied with Minneapolis and DC as a distant second. If we haven't met yet (or if we have!), come say hello non-digitally. I would love that.